The Transaction List can be navigated using the Smart Search and the Filter Search.
Smart Search
Smart Search automatically starts filtering information shown as you type so you can search using either partial or full information.

Created By user name (e.g. Alex 1 Test)
The Person Being Verified's First and/or Last names
The email address or mobile number that the VOI was sent to
Transition Status – pending; complete;
Your external reference if one was entered when requesting Remote VOI via SMS or email
The dots shown in the top right hand corner show that the Portal is actively searching for VOI records as you type.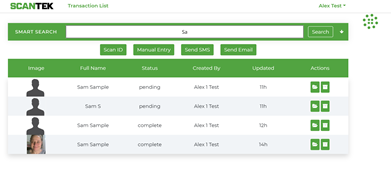 Filter search
Filters are provided for more specific search needs. These can be accessed by clicking on the [Down Arrow]. One or more filters can be used at the same time.

Created by: does not need to be an exact match for username (Alex 1 Test or Alex)
First Names; Last Names: can entered in part or full (Samatha or Sam)
Date of birth: this needs to be entered in full as an exact match. s can be entered by typing into the field or using the date picker (01/01/1980)
Email address and mobile number: can entered in part or full (alex@scantek or scantek)
Status: choose option from dropdown (All / Pending / Active / Complete)
Reference: can entered in part or full
Create Time Start / End & Last Modified Time Start & End: select these using the date and time picker
| | |
| --- | --- |
| Toggle the Apply Filter to [On] to return results. | |
| Individual records can then be opened by clicking on the [Folder icon] located in the Actions column. | |