You may be asked to provide your COVID-19 vaccination certificate using the Scantek Verification Service. This page provides answers to these common questions:
---
Q: Where do I get my vaccination certificate from?
You will need either a MyGov or Medicare online account to download your certificate. Please see How to get proof of your Covid-19 vaccinations for help with this.


Q: Can I use a screenshot of my vaccination certificate?
No - screenshots are not accepted. You will need to provide a PDF of your certificate that has been downloaded via MyGov. This ensures we can validate the integrity of the certificate.
Q: Can I use the vaccination certificate I've stored in my Apple wallet or Google Play?
Certificates in your Apple wallet or Google Play account do not provide the level of secure validation offered by our service. This is because they are designed for visual inspection only (e.g. when presenting at a venue). Please upload the original PDF certificate directly from your computer or mobile device.


Q: There is more than one type of certificate available in Medicare Online or My.Gov.au. Which one should I provide?
Our verification service only accepts the "COVID-19 digital certificate" type. Note, this is different to the "International COVID-19 Vaccination Certificate" type. The correct certificate looks like this: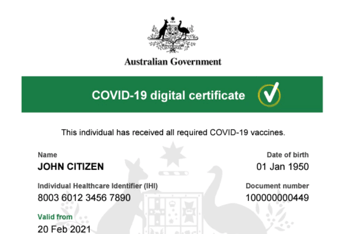 Your doctor will need to have entered your exemption on the Australian Immunisation Register (AIR) in order for you to download a certificate via Medicare Online. Visit
How to get proof of your Covid-19 vaccinations
to find out more. Once you have your certificate, you can upload it using our verification service. A valid exemption certificate looks like this: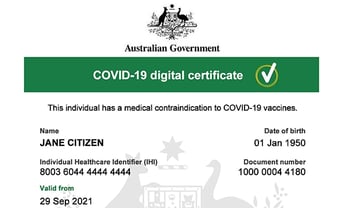 Start the verification process using the link you have been sent. You will be able to choose an option to securely share your vaccination status with the organisation who has requested it. Note you will need to contact the organisation directly to discuss what this means for their process.
Yes - if you had your COVID-19 vaccination overseas please upload a certificate that shows your name as it appears on your passport, your date of birth or passport number, the vaccine brand name and when you were vaccinated. If your certificate is not in English please include a certified translation.
Q:How do parents/guardians of people under the age of 18 give their consent for the vaccination information to be captured?
After uploading the vaccination certificate, a consent form is displayed with two check boxes - the first box is a personal consent statement that must be ticked. If the person being verified is under 18 then the second box must also be ticked and the parent/guardian's name provided. This confirms that the parent/guardian has also agreed for the minor's information to be shared.
Q: I'm worried about my IHI (Individual Healthcare Identifier) on my vaccination certificate being stored and my personal medical information being shared. What happens with my IHI?
During the upload process our system automatically obscures your IHI from the document so that it is not visible or available for use by the organisation requesting your certificate. Scantek does not store or share this information. For more information about your IHI see What is an Individual Healthcare Identifier?